Map of Education Building
Map of Education Building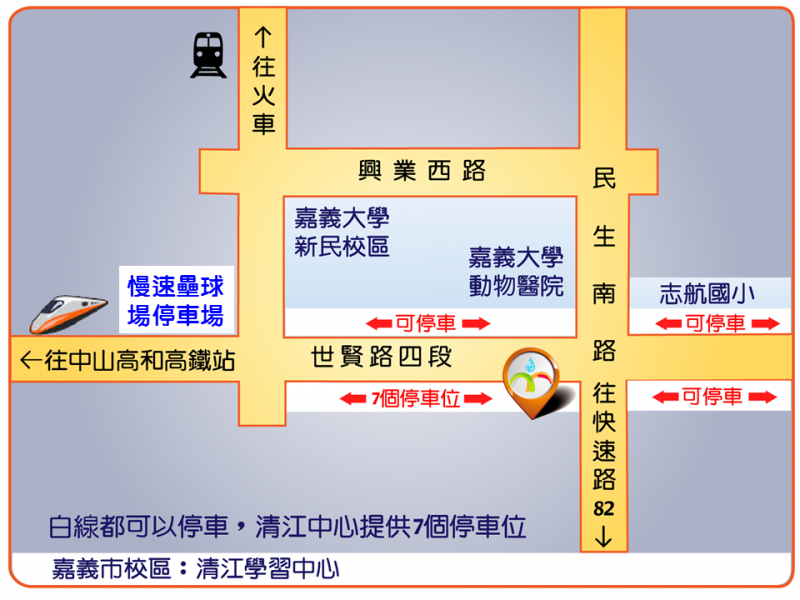 Information
1. Train
To Building in Chiayi City
Chiayi bus--Chiayi Station—To YanShui—XinZhuang Station—Walk straight for 3 mins
To train station
Chiayi bus-- XinZhuang Station—To Chaiyi-- Chiayi Station-- Walk straight for 3 mins

2. Highway Bus
Chiayi Train Station—Same as by train

3. HSR
HSR Chiayi Station—BRT to Chiayi—Chiayi Train Station—Walk through the Bridge to the Front Station—Same as by Train

4.Drive
National Highway No. 1: Chiayi Junction—BeiGang Rd.—To Chiayi—Turn right to ShiXian Rd.
National Highway No. 3:
Route 1: ShuiShang System Juction—Expressway No. 82—ZhongHe System Junction—To Chiayi—Turn left from ShiXian Rd.
Route 2: ZhongPu Junction—Drive along Ali mout. Way—Turn right from DaYi Rd.—Turn left to LiRen Rd.—Turn right to WuFeng South Rd.—Turn left to ShiXian Rd.